DECREASE PAIN WHILE GETTING STRONGER WITH AQUATIC THERAPY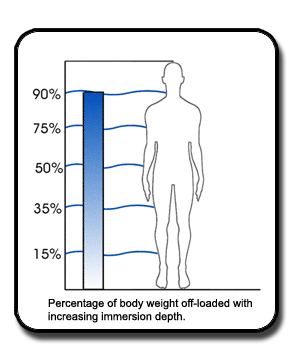 What Is Aquatic Therapy?
Aquatic therapy is gentle, client specific therapeutic exercise that takes place in a pool. The program utilizes the benefits of water's hydrostatic pressure, viscosity, buoyancy, and temperature. Water gently supports the body giving you a weightless feeling, reducing stress to the joints, allowing muscles to be strengthened and toned while you heal gently.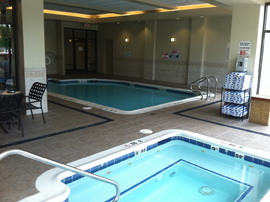 What Ailments Can Aquatic Therapy Help?
| | |
| --- | --- |
| Arthritis | Foot and Heel Pain |
| Back Pain | Pregnancy Back and Hip Pain |
| Bursitis | Knee Pain |
| Tendonitis | Joint Replacements |
| Fibromyalgia | Orthopaedic Injuries |
 
Private Changing Areas




Complementary Towel

Service




Complementary Drinking Water
What Can I Expect In Terms of Benefits?
Aquatic physical therapy is effective at increasing circulation, range of motion muscle tone, balance, coordination, strength, and endurance.
Reduced Pain:
Reduced Gravitation forces protect inflamed joints from compressive forces allowing you to gently increase muscle strength and range of motion.
Improved Mobility:
The properties of water decrease weight bearing forces and improve flexibility and balance.
Faster Results:
Patients can begin their pain relief or rehabilitation program earlier and progress faster to land-based physical therapy.
How is Aquatic Therapy Different?
This is not simply a water exercise class where all participants go through the same movements. Rather, aquatic therapy is part of an individual treatment plan prescribed by your experienced physical therapist in conjunction with your doctor, with sessions taking place in a heated and professionally serviced therapeutic pool.
Don't just take our word for it…